Zoom Takazumi
Comments

2
256pages on
this wiki
Zoom Takazumi



BF5 Role

Scout, Stealth Expert

Vehicle

Chopper

Weapons

None

Species

Human

Theme Colour

Yellow

Red Sentient 5 Counterpart

Kytren

Fusions

SkyKnife

Family Members

None

Friends

A.J., Agura, Vert, Spinner, Sherman, Stanford, Tezz

Rivals

Hatch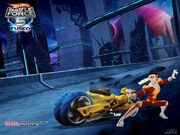 Zoom Takazumi
(voiced by Alessandro Juliani) is the Scout of the team. He is youngest yet most excited to kick butt on the team. Vert often sends him ahead to scout the area.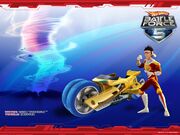 Both he and
Zen
were students of the Order of the Flying Fists under Master Takeyasu. He specifically was chosen to guard the Blue Flame. Eventually, he got bored of staying in the compound and eating rice 24/7, he left the order to start a new life.
Years later, Sage called him over to Handler's Corners along with Agura Ibaden, Stanford Isaac Rhodes IV, and Sherman and Spinner Cortez. After a battle with the Sark, he recieves his vehicle, the Chopper, and forms the Battle Force 5 with his new friends.
in the episode "The Chosen One" Zen found him and tried to get him to return to the Order beause he had been chosen to protect the Blue Flame. Frustrated, Zoom rejected the offer and goes to the garage to release his frustration; however after a successful Battle Key run, Zen allows him to stay with the team and thier friendship mended.
Personality
Edit
Being the youngest of the team, Zoom is energetic, out-going, curious, and reckless. As a young teenager, he enjoys taunting and angering his opponents with a series of hit-and-run attacks. He is prone to doing stunts and showing off to his teammates and is often annoyed when they don't see it, as well as being lectured by Vert on several ocassions for being too reckless. He is also slightly irresponsible and constantly looking for change as he abandoned the Order of the Flying Fists to find a new life outside because it was boring to him. Zoom also heavily looks up to the leader of the group, Vert Wheeler. Whatever the leader does, influences whatever Zoom does do. He has a tendancy to mimic the moves that Vert does. 
Despite being reckless and brash, he also shows a selfless and caring side. He is willing to sacrafice himself in "Missing in Action" and had no problem being left behind in order to protect his friends and Earth. He is also strong-willed and optimistic. He finds it offensive when other members, particularly Spinner, call him a "kid" for being the youngest. Zoom also dislikes cold weather as he was born in a warmer climate.
Relationships
Edit
​Vert and Zoom share an older brother-younger brother relationship. Zoom heavily looks up to Vert and often tries to mimic him when he has the chance. Vert often likes to show-off to Zoom the many things he can do, although sometimes taking it too far, in which he is often guilty for. Zoom often disobeys Vert, only because he wanted to show-off too sometimes, often earning him a lecture. Despite so, they are good to each other. They often pair up when battling together, which shows their strong relationship with each other.
Spinner used to annoy Zoom by calling him a kid; however, after an incident where Zoom stayed behind to fight the Vandals, the two became friends. Spinner grew to become good friends with Zoom when he shouted at Hatch for hurting him in Man Down.
​Agura and Zoom share a somewhat older sister-younger brother relationship. She is the silent watcher who watches Zoom and Vert playing together, and will often intervene when she thinks Vert has gone to far. Agura will even go far enough to scold Vert for endangering Zoom. She and Zoom rarely quarrel and they share a good relationship with each other.
Sage and Zoom are good allies. Zoom said he was willing to risk his saftey for Sage in The Shadow Zone. Sage cares for Zoom, even saving his life in Man Down after he was infected by a poision.
Rawkus doesn't take sides as he likes to keep things in balance, but he begins to trust Zoom after he said that Master Takeyasu was his master. He grew to depend on Zoom and Vert as they make it through the Shadow Zone. He manages to help Zoom on the SkyKnife as he nearly loses his mind and nearly gets consumed by the Shadows.
Zoom's mentor and teacher. He disaproved of Zoom leaving the order, but they still share a teacher-student relationship. Both Zoom and Zen was devastated when Takeyasu was trapped on the Red Sentient planet, but was sure that they would meet again.
Zoom used to share a close relationship with Zen. Zen thought of Zoom as an idol because he was the best warrior of the Flying Fists and he was crushed when Zoom had left. After finding him again and realizing his purpose, Zoom and Zen remain good friends.
Grace and Zoom share a somewhat romantic relationship. When Standford and Vert tried to get her attention, she revealed that she instead had decided to go out with Zoom, mainly because she said he was more of a gentleman than both combined. Although in a relationship with Grace, he doesn't seem to make much out of it, but on the other hand, Grace is shown to long for Zoom when he is not around in the Total Revolution Movie.
Vehicle and Abilites
Edit
His vehicle is the Chopper, a yellow motorcycle whose wheels can split into bladed propellers for flight. It also has a grappling cable to latch onto other vehicles to get airborne if the Buster's ramp can't be used.
The Chopper is used for the combination SkyKnife, in which the Saber is bestowed with flight abilities.
Zoom is a skilled Muay Thai fighter and the best warrior in the flying fists; however when he left the order, his fighting skills grew a bit rusty. His hand-to-hand combat proves to be a great benefit to the team. He is stealthy as well and can sneak around undetected thanks to his dexterity from Muay Thai.
Zoom is the most stealthiest of all the members of Battle Force 5. He is able to sneak past anybody without no one noticing him. He is also known to do flips and somewhat ninja-like leaps more so than any other member.
Apperance
Edit
The Chopper's color, Zoom's suit, and clothing are all yellow with a bit of orange and red. When in fusion form, he has a white and yellow suit, and the wheels of the Chopper are a light blue.
He does not do well in cold enviroments.
Vert and Zoom are often paired together in fights
Yellow symbolizes Zoom, which fits him as he is the youngest because yellow means that one has the most energetic nature
Conversations involving him
Edit